EU-Kommission hat Formel 1 im Visier
Hilft Brüssel den Rebellen-Teams?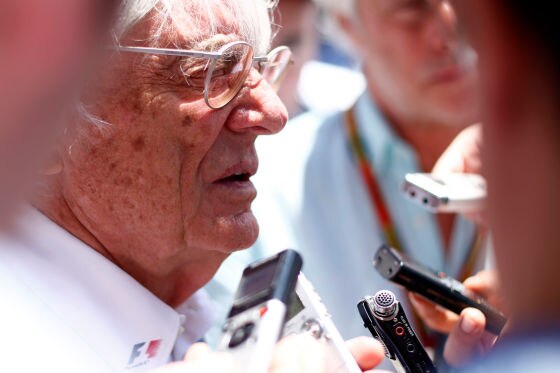 —
Die kleinen F1-Teams kämpfen weiter ums Überleben und ihre Rechte. Force-India-Teamchef Rob Fernley hat Bernie Ecclestone einen Brief geschrieben.

Bild: Picture-Alliance
Seit dem Großen Preis der USA gehen die kleinen Teams gegen die ungerechte Verteilung der Formel-1-Einnahmen auf die Barrikaden. Zuletzt schrieb Force-India-Teamchef Bob Fernley im Namen von Force India,
Lotus
und Sauber einen Beschwerdebrief an Bernie Ecclestone mit der Bitte um einen Krisengipfel in
Abu Dhabi
. Jetzt bekommen die drei Rebellenteams auch noch Hilfe von der EU. Wie die altehrwürdige englische Times berichtet, hat Anneliese Dodds, ein Mitglied des europäischen Parlaments, der Kommissarin der europäischen Wettbewerbskommission in einem Schreiben über ihre Sorge berichtet, wie der Sport geführt werde.
Vereinbarung nicht eingehalten?

Außerdem überreichte sie offenbar ein Dossier über die geheimen Geldströme und Machtverhältnisse der Formel 1. Bringt die EU Bernie Ecclestone und seine ungerechte Verteilung der Gelder endlich zu Fall? Eigentlich viel zu spät: Marussia und Caterham sind bereits insolvent. Dodds verrät gegenüber der Times: "Vor ein paar Jahren gab es eine Vereinbarung zwischen der EU und der Formel 1 über den Wettbewerb und es sieht so aus, als hätte man sich nicht daran gehalten!" Im Visier ist die Strategiegruppe der Formel 1, in der
Ferrari
, Red Bull, McLaren,
Mercedes
und Williams fast alleine über die Regeln der Formel 1 entscheiden dürfen.
Fernley sieht rechtswidriges Kartell

Außerdem geht es um die Aufteilung der Einnahmen. Von etwas mehr als einer Milliarde Euro werden rund 700 Millionen an die Teams ausgeschüttet. Davon wiederum streichen die fünf größten Mannschaften mit 465 Millionen Euro den Löwenanteil ein. In dem Brief der kleineren Teams, der ABMS vorliegt und den wir hier veröffentlichen, beschert sich Force India-Teamchef Fernley, dass der Rechteinhaber zusammen mit den Teams in der Strategiegruppe ein rechtswidriges Kartell gebildet habe und dass der Automobilweltverband in allen Regel-Fragen "impotent" gemacht worden sei. Ecclestone hatte sich gegen die Vorwürfe mit folgender Aussage gewehrt: "Fernley spricht kompletten Bullshit." Ob die EU-Kommission das auch glaubt? Fakt ist: Die Formel 1 braucht eine Revolution, damit der Sport weiterleben kann.
Der Brief im Originalwortlaut:

Since Austin, Lotus, Sauber and Force India
F1
have been in communication with Donald and your good self in order to highlight the critical situation independent constructors in Formula 1 are facing today. From our meetings we noted positively that our concerns were acknowledged and there was a basis for a constructive dialogue. However, after our meeting in Brazil we clearly see the direction of Formula 1 towards customer cars / super GP2. It
is
equally clear that the Strategy Group has no intention at all to reduce costs.
We would like to highlight that we came to you primarily with the request to reduce costs. Due to the lack of interest in pursuing this target we then addressed the distribution of income as a way to absorb the higher costs. Whilst everyone acknowledges that the introduction of the new regulations, particularly in respect to the power unit, has led to a massive increase of the expenses, nobody is willing to take any action and responsibilities are being passed back and forth.
We note that we are being accused of not being able to run our teams well. In this context we wish to highlight that the income we receive from FOM this year ranges from approx. US$ 52 million up to US$ 64 million. The costs of the power unit together with the installation costs amount on average amongst us three to US$ 43 million. This clearly shows that 70% - 80% of the FOM income has to be allocated to the engine. For us, as engine customers, the engine technology, i.e V6, V8 or turbo-charged or hybrid, is of much less significance, as opposed to engine manufacturers, who are using Formula
One
as a marketing tool to showcase high-end technology. Unlike manufacturer-owned teams, our core business is Formula One. Yet, we have no choice but to spend most of our income on the engine, and the remaining 30% is by far not enough to construct, enter and run a team over a twenty race season. The generation of further funds though sponsorship is achievable but we all recognise that other global sporting competitions are chasing the same sponsors which are at lower levels than even two years ago. It is challenging when the Commercial Rights Holder of F1 is also competing against the teams, therefore, we have been focussing on the reduction of the costs. Looking at these facts and despite the challenges, Lotus, Sauber and Force India F1 have all recorded podium finishes in recent times whilst operating their teams at almost one third of the cost expended by the manufacturer teams. Any allegations that we are not running our business well are certainly not justified.
As you know, the income we are getting is in no relation to that of
Red Bull Racing
or Ferrari which is individually beyond US$ 160 million. In total, the 2014 Prize Fund will contain approx. US$ 835 million out of which approx. US$ 412 million is distributed amongst 4 teams in the Strategy Group. Moreover, two of the bigger teams, soon to be three, are the only beneficiaries of the expensive power unit. We wish to emphasize that our teams were not in favour of the new engine regulations, these were imposed on us by the maufactuer teams. The current skewed position is a direct result of the massive increase of costs and the lack of willingness to reduce the costs.
Whilst we agree that the sport generates enough money, we cannot accept the current distribution of funds in view of the massive increase of expenses. We understand that the distribution is based on our bilateral agreements. It is, however, known to us all under which circumstances we signed these deals. The shareholder's
focus
during the negotiations was on securing the co-operation with big teams in view of the planned IPO; we were effectively given no room for negotiation. Furthermore, the impact of providing various share options to key people and entities may well have clouded their judgement in respect of creating what is effectively a questionable Cartel comprising, the Commercial Rights Holder, Ferrari, Red Bull, Mercedes, McLaren and Williams, controlling both the governance of Formula One and apparently, the distribution of FOM funds. Whilst the
FIA
are involved in The Strategy Group, they are impotent to act, as demonstrated in the recent cost control process which saw the FIA issue a media statement confirming their intent to impose cost controls and their subsequent climb down when over ruled by the CRH, Red Bull, Ferrari, Mercedes, McLaren and Williams.
Formula One remains one of the strongest global sporting platforms. However, circumstances within and around Formula One have changed, and our collective inability to react is damaging the sport. Pursuing a direction towards third /customer cars is creating fears. Such a move, representing a misuse of power, will not only change the DNA of Formula One but also damage the value of our enterprises and lead to job losses. A two-tier system can only be considered a short-sighted vision. It is evident that the current developments are dramatically reducing the value of Formula One and massively undermining its reputation as a sport.
Our teams have, like the others, a clear intention to continue as constructors in Formula One, however, unlike the manufacturer teams, who could exit on the whim of a Board decision, Lotus, Sauber and Force India F1 are bound to the sport as it is their only business focus. The issues we are facing are related to financial matters which can only be resolved by financial measures. In our common interest and for a sustainable future of the sport, we request you, together with the other stakeholders, to implement a more equitable distribution.
Quite correctly, the focus over the Abu Dhabi weekend will be to determine what has been, a most exciting championship and one which has given the fans incredible wheel to wheel racing throughout the season, however, in the interests of preserving the integrity of Formula One as, at a minimum a sustainable ten team constructors championship, I would respectfully urge you to spare time over the weekend to meet with Monisha, Vijay, Gerard and myself to find an equitable solution to the distribution of FOM funds with a view to presenting a proposal and reaching a consensus with all the stakeholders, pre or post the F1  Commission meeting on November 25th.
Thanking you in anticipation of your valued support. I remain
Yours sincerely,
With best regards